Logistics and Supply Chain Management
| Foundation Diploma | Higher Diploma | Top up Degree | Undergraduate Degree |
Overview
The Logistics and Supply Chain Management concentration prepares graduates for careers in the field of logistics, distribution, transportation, and supply chain management. Coursework includes logistics and systems support, procurement practices, warehouse management, inventory planning, and a supervised externship experience within an actual logistics and supply chain company.
Accreditations, Membership & Associates

SpringBoard International Institute is accredited by Ministry of Labour and Vocational Training, Pearson BTEC, and NCC Education. The institute is part of SpringBoard4Education that is Cambridge Assessment English Authorised centre, and the British Council IELTS test centre.


International opportunities
Aberystwyth University
Acadia University
AFUM
Alfred State College
American University
American University in the Emirates
Andrews University
Anglo-American University
Arkansas State University
Aston University
Auckland Institute of Studies
Australian Catholic University
AUT University
Bangor University
Bath Spa University
Berkeley College
Birmingham City University
Bond University
Bournemouth University
Brandon University
Brock University
Brunel University
Buckinghamshire New University
Buena Vista University
California College of the Arts
California Institute of Technology
California State University, Monterey Bay
California State University, Sacremento
Canterbury Christ Church University
Cape Breton University
Cardiff Metropolitan University
Central Queensland University
Charles Darwin University
City Unity College Nicosia
City University London
Claremont McKenna College
Cleveland State University
College de Paris
College of Charleston
CCT College Dublin
Cologne Business School
Colorado State University
Columbus College of Art and Design
Concordia St Paul
Coventry University
Cromwell UK International Education
Curtin Singapore
Curtin University
Czech Technical University in Prague
Dartmouth College
dBs Berlin
De Montfort University
Depaul University
Edinburgh Napier University
Edith Cowan University
EEGP Design Institute
Falmouth University
Flinders University
George Mason University
George Mason University Korea
Georgian Court University
Global School of Technology and Management (awarded by Birmingham City University)
Goldsmith's, University of London
Griffith University (Gold Coast)
Havering College of Further and Higher Education
HELBUS
Heriot-Watt University
High Point University
Hofstra University
Hong Kong Baptist University
Hong Kong Polytechnic University
Hong Kong University of Science and Technology
Humboldt State University
IMI International Management Institute
International Language Academy of Canada
James Cook University
Johnson and Wales University
Kingston University
Lancaster University
Lancaster University Ghana
Lewis-Clark State College
Lingnan University
Liverpool Hope University
Liverpool John Moores University
London Metropolitan University (Holloway Road)
London School of Economics and Political Science
London South Bank University
Loughborough University
Loyola Marymount University
Macquarie University
Marquette University
Massey University (Manawatu)
MDIS (awarded by University of Sunderland)
Metropolitan State University of Denver
Miami University Ohio
Middlesex University
Middlesex University Mauritius Campus
MidKent College
MingDao University
Mount Saint Vincent University
Murdoch University
New York University
New York University Abu Dhabi
Northern Michigan University
Northumbria University
Northwood University
Notre Dame de Namur University
Nottingham Trent University
Pearson Institute of Higher Education
Mont Rose College of Management and Sciences
The Education University of Hong Kong
West Suffolk College
University of Hull
Griffith University (Nathan)
Nelson and Colne College Group University Centre
Massey University (Wellington)
Massey University (Auckland)
University of Portsmouth
Bedford College (Biggleswade)
Lovely Professional University
Jagan Nath University (Jaipur)
University Centre Colchester at Colchester Institute
Bedford College (Bedford)
Monash University
Jagan Nath University (Bahadurgarh)
City of Liverpool College University Centre
International University of Applied Sciences (Bad Honnef)
International University of Applied Sciences (Berlin)
London Metropolitan University (Aldgate)
The Cyprus Institute of Marketing (Limassol)
Rotterdam University of Applied Sciences
Istanbul Okan Uni
University of Adelaide
Swinburne University of Technology
Globe Business College Munich
Manchester Metropolitan University

Oklahoma City University
Old Dominion University
Oregon State University
Pacific University Oregon
Paris College of Art
Plymouth University
Prague College
Queen Margaret University
Queen Mary, University of London
Queen's University
Queensland University of Technology
Regent's University London
Riara University
Rochester Institute of Technology
Royal Melbourne Institute of Technology (RMIT)
Royal Roads University
Royal Veterinary College
Ryerson University
Saint Michael's College
Saint Peter's University
Sheffield Hallam University
Shue Yan University
Slippery Rock University
Southern Cross University
Southern Illinois University
Southern New Hampshire University
St Edward's University
St George's, University of London
St John's College
St Patrick's College
Suffolk University, Boston
Swansea University
Technological and Higher Education Institute of Hong Kong
Teesside University
Texas Tech University
Texas Wesleyan University
The Chinese University of Hong Kong
The Cyprus Institute of Marketing (Nicosia)
The Open University [Online]
The Open University of Hong Kong
The State University of New York at Cobleskill
The State University of New York College at Old Westbury
The State University of New York Plattsburgh
The University of Akron
The University of Alabama
The University of Hong Kong
The University of Law (Guildford)
UNITAR International University
University of Aberdeen
University of Albany, The State University of New York
University of Alberta
University of Arizona
University of Arkansas
University of Auckland
University of Bath
University of Bolton
University of Bolton, Ras Al Khaimah Campus
University of Bradford
University of Brighton
University of Bristol
University of California - San Diego
University of Canterbury
University of Charleston
University of Chichester
University of Colorado-Boulder
University of Colorado-Denver
University of Cumbria
University of Denver
University of Derby
University of Derby Online Learning
University of Dundee
University of East Anglia
University of East London
University of Essex
University of Exeter
University of Florida
University of Gloucestershire
University of Greenwich
University of Hertfordshire
University of Highlands and Islands
University of Houston
University of Huddersfield
University of Idaho
University of Johannesburg
University of Kent
University of Leeds
University of Leicester
University of Lethbridge
University of Lincoln
University of Manchester
University of Mississippi
University of Montana
University of New England
University of New Haven
University of New York in Prague
University of North Florida
University of Otago
University of Oxford
University of Queensland
University of Reading
University of Roehampton
University of Saint Joseph
University of Salford
University of South Australia
University of St Francis
University of Stirling
University of Strathclyde
University of Sunderland
University of Sunderland (Hong Kong)
University of Surrey
University of Sussex
University of Sydney
University of Technology, Sydney
University of Texas at Arlington
University of Texas at Austin
University of the West of England
University of the West of Scotland
University of Toronto
University of Waterloo
University of West Georgia
University of Western Australia
University of Westminster
University of Wollongong
University of Wolverhampton
University of York
Vancouver Island University
Virginia Commonwealth University
West Texas A and M University
Western New England University
Western Sydney University
Westminster College
Wichita State University
Widener University
William Woods University
Woodbury University
York St John University
Westford University College
Photography Academy of Ireland
Troy University
Istanbul Gelişim University
Sacred Heart University
University of Pécs
ETIC - Escola de Tecnologias Inovacaoe Criacao
International University of Applied Sciences (Erfurt)
New York University Shanghai
Akfa University
British Academy of Interior Design
British Academy of Photography
Interior Design Academy of Ireland
More information please check: https://www.highernationals.com/degree-finder/recognition-institutions
How to apply for this course
APPLICATION INFORMATION AND FEES
Aberystwyth University
Acadia University
AFUM
Alfred State College
American University
American University in the Emirates
Andrews University
Anglo-American University
Arkansas State University
Akfa University
Aston University
Auckland Institute of Studies
Australian Catholic University
AUT University
Bangor University
Bath Spa University
Berkeley College
Bedford College (Biggleswade)
Bedford College (Bedford)
Birmingham City University
Bond University
Bournemouth University
Brandon University
Brock University
British Academy of Interior Design
British Academy of Photography
Brunel University
Buckinghamshire New University
Buena Vista University
California College of the Arts
California Institute of Technology
California State University, Monterey Bay
California State University, Sacremento
Canterbury Christ Church University
Cape Breton University
Cardiff Metropolitan University
City of Liverpool College University Centre
Central Queensland University
Charles Darwin University
City Unity College Nicosia
City University London
Claremont McKenna College
Cleveland State University
College de Paris
College of Charleston
CCT College Dublin
Cologne Business School
Colorado State University
Columbus College of Art and Design
Concordia St Paul
Coventry University
Cromwell UK International Education
Curtin Singapore
Curtin University
Czech Technical University in Prague
Dartmouth College
dBs Berlin
De Montfort University
Depaul University
Edinburgh Napier University
Edith Cowan University
EEGP Design Institute
Falmouth University
Flinders University
George Mason University
George Mason University Korea
Georgian Court University
Global School of Technology and Management (awarded by Birmingham City University)
Globe Business College Munich
ETIC - Escola de Tecnologias Inovacaoe Criacao
Goldsmith's, University of London
Griffith University (Gold Coast)
Griffith University (Nathan)
Havering College of Further and Higher Education
HELBUS
Heriot-Watt University
High Point University
Hofstra University
Hong Kong Baptist University
Hong Kong Polytechnic University
Hong Kong University of Science and Technology
Humboldt State University
IMI International Management Institute
International Language Academy of Canada
International University of Applied Sciences (Bad Honnef)
International University of Applied Sciences (Berlin)
Interior Design Academy of Ireland
International University of Applied Sciences (Erfurt)
Istanbul Okan Uni
Istanbul Gelişim University
James Cook University
Johnson and Wales University
Jagan Nath University (Jaipur)
Jagan Nath University (Bahadurgarh)
Kingston University
Lancaster University
Lancaster University Ghana
Lewis-Clark State College
Lingnan University
Liverpool Hope University
Liverpool John Moores University
London Metropolitan University (Holloway Road)
London School of Economics and Political Science
London South Bank University
Loughborough University
Loyola Marymount University
Macquarie University
Marquette University
Massey University (Manawatu)
MDIS (awarded by University of Sunderland)
Metropolitan State University of Denver
Miami University Ohio
Middlesex University
Middlesex University Mauritius Campus
MidKent College
MingDao University
Mount Saint Vincent University
Murdoch University
New York University
New York University Abu Dhabi
Northern Michigan University
Northumbria University
Northwood University
Notre Dame de Namur University
Nottingham Trent University
Oklahoma City University
Old Dominion University
Oregon State University
Pacific University Oregon
Paris College of Art
Plymouth University
Prague College
Queen Margaret University
Queen Mary, University of London
Queen's University
Queensland University of Technology
Regent's University London
Riara University
Rochester Institute of Technology
Royal Melbourne Institute of Technology (RMIT)
Royal Roads University
Royal Veterinary College
Ryerson University
Saint Michael's College
Saint Peter's University
Sheffield Hallam University
Shue Yan University
Slippery Rock University
Southern Cross University
Southern Illinois University
Southern New Hampshire University
St Edward's University
St George's, University of London
St John's College
St Patrick's College
Suffolk University, Boston
Swansea University
Technological and Higher Education Institute of Hong Kong
Teesside University
Texas Tech University
Texas Wesleyan University
The Chinese University of Hong Kong
The Cyprus Institute of Marketing (Nicosia)
The Open University [Online]
The Open University of Hong Kong
The State University of New York at Cobleskill
The State University of New York College at Old Westbury
The State University of New York Plattsburgh
The University of Akron
The University of Alabama
The University of Hong Kong
The University of Law (Guildford)
UNITAR International University
University of Aberdeen
University of Albany, The State University of New York
University of Alberta
University of Arizona
University of Arkansas
University of Auckland
University of Bath
University of Bolton
University of Bolton, Ras Al Khaimah Campus
University of Bradford
University of Brighton
University of Bristol
University of California - San Diego
University of Canterbury
University of Charleston
University of Chichester
University of Colorado-Boulder
University of Colorado-Denver
University of Cumbria
University of Denver
University of Derby
University of Derby Online Learning
University of Dundee
University of East Anglia
University of East London
University of Essex
University of Exeter
University of Florida
University of Gloucestershire
University of Greenwich
University of Hertfordshire
University of Highlands and Islands
University of Houston
University of Huddersfield
University of Idaho
University of Johannesburg
University of Kent
University of Leeds
University of Leicester
University of Lethbridge
University of Lincoln
University of Manchester
University of Mississippi
University of Montana
University of New England
University of New Haven
University of New York in Prague
University of North Florida
University of Otago
University of Oxford
University of Queensland
University of Reading
University of Roehampton
University of Saint Joseph
University of Salford
University of South Australia
University of St Francis
University of Stirling
University of Strathclyde
University of Sunderland
University of Sunderland (Hong Kong)
University of Surrey
University of Sussex
University of Sydney
University of Technology, Sydney
University of Texas at Arlington
University of Texas at Austin
University of the West of England
University of the West of Scotland
University of Toronto
University of Waterloo
University of West Georgia
University of Western Australia
University of Westminster
University of Wollongong
University of Wolverhampton
University of York
Vancouver Island University
Virginia Commonwealth University
West Texas A and M University
Western New England University
Western Sydney University
Westminster College
Wichita State University
Widener University
William Woods University
Woodbury University
York St John University
Pearson Institute of Higher Education
Mont Rose College of Management and Sciences
The Education University of Hong Kong
West Suffolk College
University of Hull
Griffith University (Nathan)
Nelson and Colne College Group University Centre
Massey University (Wellington)
Massey University (Auckland)
University of Portsmouth
Bedford College (Biggleswade)
Lovely Professional University
Jagan Nath University (Jaipur)
University Centre Colchester at Colchester Institute
Bedford College (Bedford)
Monash University
Jagan Nath University (Bahadurgarh)
City of Liverpool College University Centre
International University of Applied Sciences (Bad Honnef)
International University of Applied Sciences (Berlin)
London Metropolitan University (Aldgate)
The Cyprus Institute of Marketing (Limassol)
Rotterdam University of Applied Sciences
Istanbul Okan Uni
University of Adelaide
Swinburne University of Technology
Globe Business College Munich
Manchester Metropolitan University
British Academy of Interior Design
British Academy of Photography
Interior Design Academy of Ireland
Photography Academy of Ireland
Troy University
Istanbul Gelişim University
Sacred Heart University
University of Pécs
ETIC - Escola de Tecnologias Inovacaoe Criacao
International University of Applied Sciences (Erfurt)
New York University Shanghai
Akfa University
Westford University College
Lancaster University
Lancaster University Ghana
Lewis-Clark State College
Lingnan University
Lovely Professional University
Liverpool Hope University
London Metropolitan University (Aldgate)
Liverpool John Moores University
London Metropolitan University (Holloway Road)
London School of Economics and Political Science
London South Bank University
Loughborough University
Loyola Marymount University
Macquarie University
Marquette University
Massey University (Manawatu)
MDIS (awarded by University of Sunderland)
Metropolitan State University of Denver
Miami University Ohio
Middlesex University
Middlesex University Mauritius Campus
MidKent College
Manchester Metropolitan University
MingDao University
Monash University
Mount Saint Vincent University
Murdoch University
Mont Rose College of Management and Sciences
Massey University (Wellington)
Massey University (Auckland)
New York University
New York University Abu Dhabi
Nelson and Colne College Group University Centre
Northern Michigan University
Northumbria University
Northwood University
Notre Dame de Namur University
Nottingham Trent University
New York University Shanghai
Oklahoma City University
Old Dominion University
Oregon State University
Pacific University Oregon
Photography Academy of Ireland
Paris College of Art
Plymouth University
Prague College
Pearson Institute of Higher Education
Queen Margaret University
Queen Mary, University of London
Queen's University
Queensland University of Technology
Regent's University London
Riara University
Rochester Institute of Technology
Royal Melbourne Institute of Technology (RMIT)
Royal Roads University
Royal Veterinary College
Ryerson University
Rotterdam University of Applied Sciences
Saint Michael's College
Saint Peter's University
Sheffield Hallam University
Shue Yan University
Sacred Heart University
Slippery Rock University
Southern Cross University
Southern Illinois University
Southern New Hampshire University
St Edward's University
St George's, University of London
St John's College
St Patrick's College
Swinburne University of Technology
Suffolk University, Boston
Swansea University
Technological and Higher Education Institute of Hong Kong
Teesside University
Texas Tech University
Texas Wesleyan University
Troy University
The Chinese University of Hong Kong
The Cyprus Institute of Marketing (Nicosia)
The Open University [Online]
The Cyprus Institute of Marketing (Limassol)
The Open University of Hong Kong
The State University of New York at Cobleskill
The State University of New York College at Old Westbury
The State University of New York Plattsburgh
The University of Akron
The University of Alabama
The University of Hong Kong
The University of Law (Guildford)
The Education University of Hong Kong
University of Aberdeen
University of Albany, The State University of New York
University of Alberta
University of Arizona
University of Arkansas
University of Auckland
University of Bath
University of Adelaide
University of Bolton
University of Bolton, Ras Al Khaimah Campus
University of Bradford
University of Brighton
University of Bristol
University of California - San Diego
University of Canterbury
University of Charleston
University of Pécs
University of Chichester
University of Colorado-Boulder
University of Colorado-Denver
University of Cumbria
University of Denver
University of Derby
University of Derby Online Learning
University of Dundee
University of East Anglia
University of East London
University of Essex
University of Exeter
University of Florida
University of Gloucestershire
University of Greenwich
University of Hertfordshire
University of Highlands and Islands
University of Houston
University of Huddersfield
University of Idaho
University of Johannesburg
University of Kent
University of Leeds
University Centre Colchester at Colchester Institute
University of Leicester
University of Lethbridge
University of Lincoln
University of Manchester
University of Mississippi
University of Montana
University of New England
University of New Haven
University of New York in Prague
University of North Florida
University of Otago
University of Oxford
University of Queensland
University of Reading
University of Roehampton
University of Saint Joseph
University of Salford
University of South Australia
University of St Francis
University of Stirling
University of Strathclyde
University of Sunderland
University of Sunderland (Hong Kong)
University of Surrey
University of Sussex
University of Sydney
University of Technology, Sydney
University of Texas at Arlington
University of Texas at Austin
University of the West of England
University of the West of Scotland
University of Toronto
University of Waterloo
University of West Georgia
University of Western Australia
University of Westminster
University of Wollongong
University of Wolverhampton
University of York
University of Hull
University of Portsmouth
Vancouver Island University
Virginia Commonwealth University
West Texas A and M University
Western New England University
Western Sydney University
Westminster College
Wichita State University
Widener University
William Woods University
Woodbury University
West Suffolk College
Westford University College
You might also be interested in: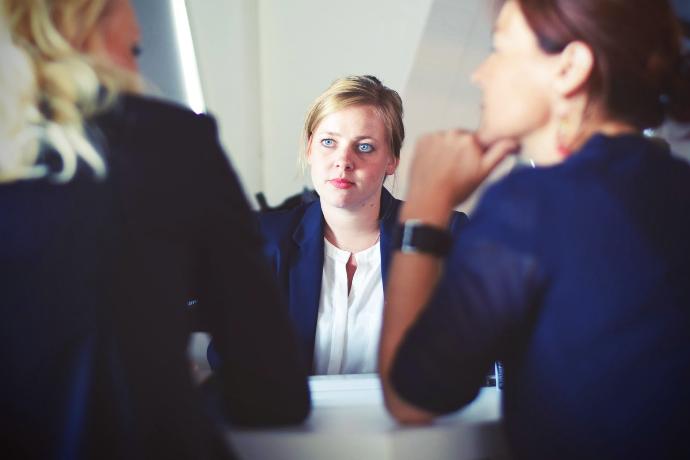 Human Resource Management